As always, thank you to
The Story Siren
for hosting this! Sadly, last week I couldn't participate since I didn't get anything, but this week I received two books! And I know others are coming soon, too--one or two could be sitting in my mailbox from yesterday, for all I know, but now that I'm down here in Florida it's a moot point for the week :-) But here's what I got a couple of days ago:
Margot Kinberg tried to leave a comment for me on my blog a few weeks ago and had problems, but we've actually ended up being good Facebook buddies now. :-) I just received her mystery,
Publish or Perish
, this week and am looking forward to reading it!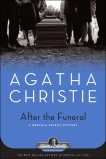 Come to think of it, I think Margot wanted to comment on a review I gave of an Agatha Christie Mystery... And I just received another Hercule Poirot to add to my collection:
After the Funeral
. Of course, I still had a sizeable stack of unread books before these arrived, and I'm still expecting more! (Though some of what will be hitting my mailbox this week are review copies.)
But for me, that's a pretty good "In My Mailbox" week--just getting anything at all! I'm jealous of all of you who have so many books that arrive week after week :-)