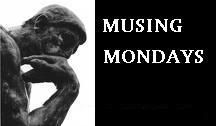 So this is my first time participating in Musing Mondays, which is hosted by Rebecca at
Just One More Page
. This post is coming to you thanks to the ability to set up auto-posts in advance with Blogger. And I have to thank Rebecca for posting this on Sunday so that I was able to go ahead and write my entry for Monday :-) See? I promised I wouldn't leave you totally high and dry while I was on vacation!
Today's MUSING MONDAYS post is about bookstores…
How many bookstores do you frequent? Do you have a favourite? If so, which one and what makes it so?
I really had to answer this question because I L-O-V-E bookstores. I also felt like it was a good time to make a confession: I'm a bit of a bookstore snob. For five years I worked for Barnes & Noble College Bookstores, which is a sister company to the B&N stores all of you are familiar with. Many of their newer stores have the look and feel of a B&N, but with the addition of school spirit apparel, textbooks, and everything else that's more unique to a college bookstore. So because of this, I am naturally partial to Barnes & Noble for my book-shopping. I just love the atmosphere, decor, and smells of a B&N. Borders and Books-A-Million just don't do it for me and never have.
That being said, I also love used bookstores! I love the opportunity to trade my books in for other well-worn books. Currently, I frequent
Yawn's Bookstore
in Canton, GA. They have a great little set-up for both new and used books and I was thrilled to discover it several weeks ago with my mom! They also have their own publishing company, which I thought was pretty cool! I haven't checked out any of those authors yet, but I plan to soon!
Great question for MUSING MONDAYS!!