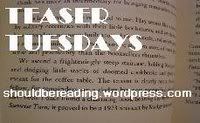 TEASER TUESDAYS is hosted by
MizB
and asks you to:
~ Grab your current read.
~ Let the book fall open to a random page.
~ Share with us two (2) "teaser" sentences from that page, somewhere between lines 7 and 12.
~ You also need to share the title of the book that you're getting your "teaser" from … that way people can have some great book recommendations if they like the teaser you've given!
~ Please avoid spoilers!
Here is mine, from page 125 of
Faerie Wars
by Herbie Brennan: 
Even without her body she felt a chill. There was something going on between her father and Black Hairstreak, negotiations that were supposed to heal the ancient rift between Faeries of the Light and Faeries of the Night.