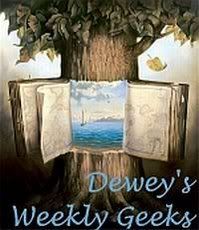 This week's
Weekly Geeks
task revisits the idea of linking our book reviews to each other, something that Dewey, whom I never had the good fortune to "know" in the book-blogging community, recommended. Here are the instructions:
1. Write a post encouraging readers to look through your archives (if you have your reviews in a particular place on your blog, point them there), and find the books that they have also written reviews. Tell them to leave a link to their review on your review post. For example, I've written a review for Gods Behaving Badly and Jane Doe leaves a link to her review of Gods Behaving Badly in the comments section of my review.
2. Edit your reviews to include those links in the body of the review post.
3. Visit other Weekly Geeks and go through their reviews. Leave links for them.
4. Leave a note somewhere on your blog to let people know this is your new policy.
5. Write a post later this week letting us know how your project is going!
This is actually something that I've been trying to do for awhile, and I did go back and edit former reviews to include other bloggers' reviews that I was able to find from my subscriptions. Now of course, there's no way I've managed to subscribe to all the amazing book blogs out there, so I'm sure there are many of you reading this who might have a review of one of the books I've reviewed, but I don't have your review linked... 
So please, use the "Reviews" label in my label cloud to visit my reviews and add links to yours in the Comments section. I'm looking forward to getting those lists updated!