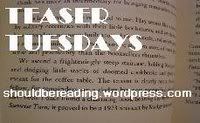 Teaser Tuesdays is hosted by MizB at
Should Be Reading
. Please check out her blog for more teasers! She asks you to:
(1) Grab your current read

(2) Open to a random page

(3) Share two (2) "teaser" sentences from somewhere on that page

(4) BE CAREFUL NOT TO INCLUDE SPOILERS! (make sure that what you share doesn't give too much away! You don't want to ruin the book for others!)

(5) Share the title & author, too, so that other TT participants can add the book to their TBR Lists if they like your teasers!

So here's mine. I'm in the middle of two books this week, one of which I left at the office yesterday, so this little teaser will be from page 110 of
Wicked Lovely
by Melissa Marr...
Allison grabbed her books for the afternoon classes. Her friends shouldn't be talking to him; he shouldn't be in her space. And he definitely shouldn't radiate that inviting heat, making her think of lazy days, of closing her eyes, of relaxing...