Friday Finds is hosted by MizB at
Should Be Reading
. This week I have so many books (4 discovered in the blogosphere and 4 discovered at the local used bookstore) that I am not going to post synopses for each title but will include links so that you can check the books out for yourself! So let's get started!
Books discovered in the blogosphere (click on the links below the pictures to take you to my Amazon.com store for more information--don't worry, you don't have to purchase, but I like the way the information is laid out on those pages :-D):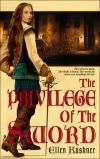 Loves first Light by Jamie Carie
The Privilege of the Sword by Ellen Kushner
The Prophecy of the Sisters by Michelle Zink
(due out in August)
Holly's Inbox by Holly Denham
(sent to me for review)
And now for the books I discovered while browsing our local bookstore:

Dragons of a Fallen Sun by Margaret Weis and Tracy Hickman
The Ages of Chaos (Stormqueen! and Hawkmistress) by Marion Zimmer Bradley
Beyond The Summerland by L. B. Graham
Life Expectancy by Dean Koontz
What great books did you find this week?