All I can say to all of you is
THANK YOU!!!
What a wonderful 6-month anniversary present--my
300th follower
!! And what better way to celebrate than to have a little giveaway, no?! I finally figured out what I wanted to do...
I decided to offer two giveaways this time around. One lucky winner will get to choose a book of their choice from
The Book Depository
, valued at $10 or less.
The Grand Prize winner will receive a $25 e-gift certificate for either
Amazon.com
or
BN.com
--it's your choice!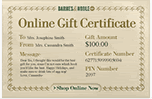 You know what all this means... this contest is open to everyone, not just the US and Canada! :-) That's right, anyone can enter to win!
Feel free to put all your entries in one comment but I will also accept separate comments (but if you decide to take pity on me, a single comment is really easier for me to work with). So here's how you can enter:
+ 1 entry ~ leave a comment telling me what book you are dying to read right now.
+ 1 entry ~ become a follower on Google Friend Connect and let me know you have (+2 entries if you are already a follower--be sure to let me know that in the comment)
+1 entry ~ become a follower on Twitter (@Melsbookshelf) and let me know you have in the comment!
+1 entry each ~ If you're on Blogged or Book Blips, friend me and let me know that you have in the comment!
+2 entries each ~ Tweet about this contest, blog about this contest, and/or post about this contest on Facebook. Be sure to leave links in your comment!
+3 entries each ~ Digg this post, Stumble it, and/or bookmark it on del.icio.us and let me know that you have.
So you can earn up to 20 or 21 entries total for this contest!
Please note that this
contest closes at midnight EDT on August 31st
and I will tally the entries and let Random.org pick the winners shortly thereafter!
Good luck to all of you and thanks again for your support!!