Happy Sunday, Saloners! Sorry I've been absent from the salon for awhile, other than a review here or there. There just hasn't been too much to write about this summer. I thought I'd use today's post to recap my month of July, which wasn't too shabby... 16 books read! I have to admit, I thought I'd read more because I was on vacation in between jobs the entire month, but it's amazing how busy one can keep even without a job!
BOOKS READ BY RATING
5 stars:
After The Fire

by Belva Plain
City of Glass

by Cassandra Clare
Eyes Like Stars

by Lisa Mantchev
Harry Potter and the Half-Blood Prince

by J. K. Rowling
4-1/2 stars:
City of Ashes

by Cassandra Clare
The King's Rose

by Alisa M. Libby
Graceling

by Kristin Cashore
Holly's Inbox

by Holly Denham (Bill Surie)
A Circle of Souls

by Preetham Grandhi
4 stars:
7th Heaven

by James Patterson and Maxine Paetro
Keeping The Moon

by Sarah Dessen
A Deadly Habit

by Andrea Sisco
A Bride Most Begrudging

by Deeanne Gist
The Lost Years of Merlin

by T. A. Barron
The Time Machine

by H. G. Wells
3-1/2 stars:
The Summoning

by Kelley Armstrong
So nothing lower than 3-1/2 stars, not too shabby!! And this month's total page count was 6,075!
JULY'S TOP PICK
This is a tough one, because I read a lot of great books this month, but rather than have a few of my 5 star books share this honor, I am choosing a debut that really stood out:
Eyes Like Stars
by Lisa Mantchev.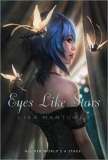 READING CHALLENGE UPDATE
As you may have seen from
one of yesterday's posts
, I completed my first reading challenge, the Pages Read Challenge hosted by Kathrin at
Secret Dreamworld of a Bookaholic
! I had set my goal at 30,000 pages and little did I realize I'd be meeting it by the end of July! As for my
other challenges
, I have now read 3 of 9 books for the Sarah Dessen challenge (ends 12/31), since I added
Keeping The Moon
this month. I also managed to squeak in
The Time Machine
by H. G. Wells for the Classics Challenge (ends 10/31) before the month ended, so now I've finished 2 of 6 towards that challenge. And I have now read 86 books for the 100+ Challenge of 2009!
OTHER RANDOM MUSINGS & NEWS
I thought I ought to tell you all that you may not hear from me quite as much beginning tomorrow. I am starting a new job after having enjoyed five glorious weeks of vacation when my previous job ended. This new job will definitely keep me busier than my old job. I'm going to be the Assistant Store Manager at the Barnes & Noble at Georgia Tech, a college superstore in mid-town Atlanta. This is the company I worked with for five years before my most recent job, and that is even the store I came from.
One possible change to my reading habits may come from this--my commute is going to be a bit longer so I may be trying out and reviewing more audiobooks in the near future. I figure that will be a good way to maximize my time since I'm not sure how much time I'll be able to devote to my usual reading. I will try to keep up with my usual memes, but I think I likely won't be churning out as many reviews as I was for awhile. But who knows? Maybe I'll surprise myself and read more than I expect to!
And because there is actual a blog policy (that I had to sign) for B&N, I am supposed to say something to the effect that
the views represented in this blog do not necessarily reflect the view of Barnes & Noble College Bookstores, Inc
. whenever I mention them in a post. I'll have to get the exact verbiage when I can get a copy of the policy for myself!
Happy Sunday and happy reading, everyone!